MOST POPULAR TEFL SPAIN PROGRAM!
YOUR ONE YEAR MADRID LIFESTYLE PROGRAM (WITH A WORK AND STUDY VISA)
The Canterbury English Madrid Lifestyle and Spanish Program includes a work and study student visa that allows you to teach for twenty hours or more a week of work, at a pay rate of between 16 and 20 Euros an hour. This means that you will be earning enough money to support yourself in Madrid, as well as having the time to study and excel in becoming fluent in the Spanish language.
TEFL MADRID ITS A UNBELIEVABLE OFFER: If you wish to stay in Spain after one year, Canterbury English will renew your student visa FOR FREE (Nobody else will do this).
Why do we do this? Because after one year of working-teaching with us, you have paid your dues, and you are REAL family to us. We have developed a friendship and REAL friends help other friends out when they need help. And if you become an ex-pat and become hooked on Spain, like us at Canterbury English, then you might just want to stay. And if you do, just say the word, and that means we will allow you to do our second year Spanish course for free and we will renew your student visa for free. THAT'S WHAT REAL FRIENDS ARE FOR (other schools charge 2000€ for every year renewal)! And if you want to stay for a third year or more the same thing applies. Once you pay for the program TEFL Spain, the yearly renewals are for free and for life!
We assist you in getting your student visa and then in making a smooth transition, as well as giving you english teaching jobs in Spain!
PROGRAM COST: 1600 EUROS
WHAT DOES THE ONE YEAR MADRID LIFESTYLE PROGRAM INCLUDE?
SPANISH CLASSES
A 10 month (Sept-June), Spanish course, online classes and in-person cultural activities.
Spanish Course Ematerials.
Various fun Garcia Lorca Spanish Club social activities and road trips organized by your Spanish teacher to integrate the students during the course.
Second year is free! (if you want to enroll in a second year, you don't have to pay another penny!)
LIFETIME STUDENT BENEFITS
Assistance with legal paperwork.
Accommodation assistance.
Guidance to create a bank account.
Canterbury English staff help before, during and after course.
LIFETIME JOB BENEFITS
A guaranteed job with Canterbury English.
A contract with our EPartner to teach online from anywhere in the world.
Job support with other English Academies in Madrid.
Guaranteed work interviews in high schools, infant schools, middle schools, English academies in Madrid.
Exclusive contacts for the best jobs in the English market in Madrid.
Private class know-how (our founder teaches you individually and in person all the tricks of the trade to get your own high paying in-person private classes.)
Weekly new job alerts directly to your email.
*** The Canterbury English Madrid Lifestyle team and the Canterbury English Teaching Academy team has been providing jobs to thousands of TEFL graduates for 22 years.***
MORE SPECIFIC PROGRAM DETAILS
1. Ten months of Spanish classes (from September to June) at our Garcia Lorca Spanish School. Our live online classes take place during the week and cover three Spanish levels, A1 meet Mondays and Wednesdays, A2 meet Tuesdays and Thursdays and our intermediate group meets on Fridays (days are subject to change in order to adapt to student and teacher availability). You chose the level that best suits you and you can also sit in on the other levels if you feel this is beneficial for you. For example an absolute beginner can sit in on the A1 and A2 levels and gain from it, but an A2 student would not usually find it beneficial sitting in the beginners level. The online class size varies quite a lot between as few as 3 and as many as 25 students so you can benefit from small intimate classes as well as from bigger dynamic classes where you learn fast with our super sweet and first rate Spanish teacher.
2. Accommodation assistance.
3. Buying a Spanish telephone.
4. Opening a bank account in Madrid.
5. Setting you up with an appointment to get your NIE number (legal Spanish identification). With this number you can sign a contract, rent an apartment, and many more things.
7. Information packs, maps, etc.
8. Lending you a hand with the paperwork for your Spanish TIE Number.
9. For those who would like to work for Canterbury English as well as other schools, you can request a personal resume (CV) session for tips with the director.
10. Orientation on market hiring conditions such as pay rates, contract conditions and job interviews.
11. Orientation on interviewing at other schools to complete your schedule (a full-time schedule is between 20 and 25 hours of teaching a week).
12. Contact details to send your CV to hundreds of other language schools.
13. Through the Garcia Lorca Spanish Culture club run by our Spanish teacher and the Canterbury English Club run by our founder Richard, you will be meeting other graduates, making friends and building up a social network of ex-pats living in Madrid!
14. During the Madrid Lifestyle course you become part of the Canterbury English family, a real bona-fida home away from home, as well as starting what could develop into a long term relationship, depending on how long you want to stay in Madrid. Some of our current teachers did one of our programs over a decade ago and we still meet and go to Canterbury English Club events together and enjoy each others company.
GUARANTEED JOB WITH US INFORMATION (ENGLISH TEACHING JOBS IN SPAIN)

When you arrive in Madrid, you begin the Madrid Lifestyle Course and on the FIRST DAY of the course, you will be eligible to receive class offers, and can start teaching to EARN A WAGE as early as the FIRST NIGHT of the course. This is so important, because with this course you hit the ground running and you are earning money immediately. It means that you don't have to wait a month or two before being farmed out by ALL THE OTHER PROGRAMS in Spain to finally acquire a job when your savings have almost gone dry. This is a key factor that will help you stay in Spain, because you have gained a crucial 30 to 45 days and will be able to support yourself much sooner than other programs.
And it's so easy and smooth with Canterbury English, because we take the job hunting stress, worry and uncertainty out of your life and give you peace of mind so you can enjoy Spain and your Spanish classes with a guaranteed job WITH US under your belt on the day you arrive. With the invaluable tools we give you during MADRID LIFESTYLE COURSE, we trust you with our companies, adults and children and we know you will excel!
After you have completed the MADRID LIFESTYLE program ORIENTATION with Richard, you begin ten months of Spanish classes at our Garcia Lorca Spanish School. This, along with our small to large study groups will help you make rapid progress in the idiom, because living in a country, immersed in its culture and surrounded by its language, as well as studying it, is the fastest way on Earth to become fluent. Becoming fluent in Spanish will be a golden feather to wear in your cap for the rest of your life!
Because our Spanish school is located together with our English teaching academy, you are on-site every day and this makes it much easier for you (and for us) to receive more paid work to fill out your English class schedule. You receive the daily offers on your cell phone during your Spanish class and pop into the scheduling department as soon as the class is finished to grab the offer that fits best your schedule!
CERTIFICATION
✔ The Garcia Lorca Spanish School Nine Month Certificate, Madrid, Spain, created in 2000.
JULY/AUGUST SUMMER CAMP OPTION (INCLUDED IN PROGRAM FEE)

After teaching in Madrid for Canterbury English during the school year from when you arrive until to June, you will need a summer job to get through the summer, because classes in Madrid slow down during the summer months.
Canterbury English teachers will need our guaranteed summer camp placement job in the summer and for you this is one of the key pillars of our one year Madrid Lifestyle Program and is included in the program fee. Come and teaching abroad!
In July and August you will be working in a summer camp near the beautiful and monumental city of the conquistadores called Caceres, which is in the province of Extremadura, Spain.
Instructors will be working with campers from age 12 to 17 over the course of July and August.
The position will pay a total of 1.000€ (or 2000€ if you teach two months) in cash, with housing and three meals per day (breakfast, lunch and dinner) included.
Much of the time spent with campers will be enjoying activities including games in the outdoors, hiking and trekking, swimming, music and drama. This provides a great and unique opportunity to meet new people and make new friends for both the kids and the instructors.
The camp is all day, from breakfast at 9am in the morning until bedtime at night, but there is time to rest during the day, because there are many instructors and you take turns for breaks and siestas.
In the camps, there is one instructor for every 4 or 5 children. The tasks to be performed would be English classes in the morning and for the rest of the day games, being with the kids at the swimming pool, taking them on nature hikes, canoeing, archery, drama productions, etc.
If you have a particular skill, such as playing the guitar, singing, crafts making, playing any other instrument, juggling, etc, then this will be very welcome.
We would love you to spend the whole two month of July and August with us (and know our english teaching jobs in spain). But, in the case that you are not available for the four weeks, you also have the option to join us for two weeks and earn 500€.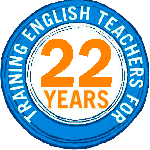 ABOUT OUR CANTERBURY ENGLISH CLUB ACTIVITIES FOR TEFL SPAIN
Part of the Madrid Lifestyle program is the Canterbury English ( tefl academy) Getting to Know Spanish Culture Adventure Club, with monthly field trips and activities such as the Canterbury Grape Harvest Festival & Madrid Winery Tour, the Olive Harvest in Jaen, Real Madrid Night Out, Skiing & Snowboarding at la Pinilla Ski Resort, June Teachers vs Student Football Game & Picnic in Retiro Park and many more fun events!
These cultural day trips are combined with the night time Canterbury English Party Club, including Pub Nights, Flamenco Nights, Gypsies and Torrero Nights and much, much more.
BONA FIDA HOME AWAY FROM HOME
Canterbury English is a real, bona-fida home away from home for you, because once you are on board, we will take care of you from A to Z.
IF YOU'RE READY TO GO, WHAT'S YOUR NEXT MOVE TO MAKE THIS DREAM COME TRUE?
1. Check out our Canterbury English MADRID LIFESTYLE Brochure.
2. Email Richard Clarke, the founder and director of Canterbury English and ask your heart away!! Richard is a UCSB (University of California Santa Barbara) graduate, from Los Angeles, California, who's living the dream and who wants to share it with you, so email him at infotefl@canterburyenglish.com
3. When you're nice and ready, you can complete our Canterbury English Madrid Lifestyle program application and email it to Richard. He will personally review it and notify you from 1-3 days if you have been accepted into the program. If you are, congratulations, the dream is about to become true!
4. After you have been accepted, you and Richard can set up a Skype session together. This is when you can ask all the questions that your heart desires (make a list before), so that you are fully confident about coming to Madrid to share the next amazing chapter of your life with us!
5. When you get the acceptance email (always think positive!), then it's time to pay the non-refundable deposit of 300€ for your Madrid Lifestyle Program.
6. This deposit is your passport to SUNNY SPAIN, MARVELOUS MADRID & an EXCITING, LOVELY LIFE with the Canterbury English Madrid Lifestyle Program and Guaranteed Teaching Job (for all students) WITH US (that's the key), which starts during the Course!!!
7. No organization in Spain can beat this offer. It's the best value for money. It's less expensive than all the other programs. It's the only one that gives a GUARANTEED JOB to ALL its graduates WITH US. And it's the only one that you can go on field trips or pub nights once a month and shot the breeze over a drink with the founder!
8. It's a no-brainer!! Canterbury English is the ONE & ONLY! The ORIGINAL! And it's all yours for a steal!
9. Great opportunities like this one only come up a few times in your life (like our english teaching jobs in spain). Don't miss it. We will take care of you and ease you into this new life! Sign Up Now!