KNOW OUR TEACHING ENGLISH ABROAD PROGRAMS
THIS PROGRAM IS DESIGNED FOR THE FOLLOWING PEOPLE
1) You have an EU passport and you just want to take the TEFL course, but don't want to work with Canterbury English after the course.
2) You don't have a EU passport (for example, you have a tourist visa), and you just want to take the TEFL course, but don't want to work with Canterbury English after the course.
PROGRAM COST AND DETAILS
PROGRAM COST: 1.375€ Euros
Presenting the Accredited and Award winning Canterbury English International TEFL Certificate Program with 22 Consecutive Years of TEFL Ivy League Success, month after month graduating students who have been traveling and teaching around the world, making our International TEFL Certificate known and respected in schools in most cities and countries everywhere, giving us the most Prestigious Program in Spain and perhaps in Europe, which is why we were awarded the Golden Laurel in 1999, the National Endowment Award in the year 2000 and the Medal of Gold in 2001 for excellence!
A 120-hour, on-site accredited TEFL Certificate program in Madrid, Spain that includes a whole six teaching practice classes with live students and an expert TEFL instructor to professionally grade your observation practice sessions.
You drive the car, but your instructor is there with you in person guiding you. This is a real and live education that will sculpt you into a genuine teacher with all the necessary tools of the trade to become a popular educator in the English language. Our program will be transform you into a teacher whose students will love and trust and this will make you a valuable addition to any teaching team and you will be in great demand.
The Canterbury English TEFL team has welcomed thousands of future English teachers now for twenty two years from around the globe to experience our renowned TEFL program in Madrid, nurturing them and helping them launch a new life as an English teacher here in Spain and then later as they travel to teach English and discover other cultures in the countries of their choice.
For many it's a major decision to start this new, enticing career and we are here to help you make the big step. With our assistance and training, you'll be well prepared for this great adventure and we will give you the confidence to move smoothly into this new life, which we will construct together until you can unfurl your own wings to take you wherever you want to go.
WHAT DOES THE TEFL PROGRAM INCLUDE?
FOUR-WEEK TEFL PROGRAM
The Canterbury English Accredited TEFL Certificate Program.
120 hr. course.
Six observed practice classes teaching real students.
TEFL Course Teaching materials.
Various fun social activities to integrate the students during the course.
SPANISH CLASSES
Four week morning Spanish course
20% discount on any other Spanish courses
LIFE STUDENT BENEFITS
Assistance with legal paperwork.
Accommodation assistance.
Guidance to create a bank account.
Access to the school library and school resources.
Canterbury English staff help before, during and after course.
***The Canterbury English TEFL team Has been training thousands of TEFL graduates for 22 years.***
PROGRAM DETAILS
You are in class for five days during each of the four intensive TEFL course weeks, from Monday to Friday, starting at 9:30 am until 3 pm (Friday starts at 10am). The morning (from 9:30 am to 12 pm) is dedicated to learning theoretical subjects that are related to teaching English as a foreign language.
The afternoons (from 12:30 pm to 3:00 pm) are dedicated to practicing the subjects learned in the morning.
There are three academic modules to the course: the TEFL theory module, the teaching business English module and the teaching children & teenagers module.
1) The TEFL theory module is 40 hours and takes place Monday to Thursday in the mornings.
2) The Business English Practice Module is 20 hours and takes place every Tuesday and Thursday afternoons.
3) The Children and Teenagers Practice Module is 20 hours and takes place every Monday and Wednesday afternoons.
There are two additional teaching modules: the practice teaching module and the real-live teaching module. This combined TEFL Practice Teaching Module is of 40 hours duration. It is divided into two equal parts of 20 hours each.
1) The Observed Practice Teaching Module.
The observed practice teaching module takes place on Fridays from 10 am to 3 pm.
Come and Live in Spain teaching english as a foreign language, or if you prefer it teaching english as a second language.
To conclude, the TEFL course is comprised of 40 hours of learning theory in the mornings. This encompasses lesson planning, role plays, presentations, peer teaching, critiques and much more. In the afternoons 40 hours of Business and Childrens Modules. On Fridays 20 hours of observed practice classes. We have the best tefl courses in Madrid.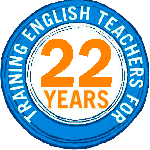 We would just like to add that no other TEFL organization has the capability of preparing you for ESL teaching in Spain as the Canterbury English International TEFL Certificate Program does! If you want teach english in spain, you can.
At Canterbury English, we believe in a Learn by Doing approach.
If you're ready to go, what's your next move to make this dream come true?
1. Check out our Canterbury English TEFL Brochure. Remember: you can live like an english teacher thanks to ours teaching English abroad programs.
2. Email Richard Clarke, the founder and director of Canterbury English and ask your heart away!! Richard is a UCSB (University of California Santa Barbara) graduate, from Los Angeles, California, who's living the dream and who wants to share it with you, so email him at infotefl@canterburyenglish.com
3. When you're nice and ready, you can complete our Canterbury English International TEFL program application and email it to Richard. He will personally review it and notify you within about 1-3 days if you have been accepted into the program. If you are, congratulations, the dream is about to become true!
4. After you have been accepted, you and Richard can set up a Skype session together. This is when you can ask all the questions that your heart desires (make a list before), so that you are fully confident about coming to Madrid to share the next amazing and super fun chapter of your life with us!
5. When you get the acceptance email (always think positive!), then it's time to pay the non-refundable deposit of 300€ for the TEFL program.
6. This deposit is your passport to SUNNY SPAIN, MARVELOUS MADRID & an EXCITING, LOVELY LIFE with the Canterbury English TEFL Certificate Program!!!
7. No organization in Spain can beat the prestige of your Canterbury English onsite TEFL Certificate that gives you a real education.
8. It's a no-brainer!! Canterbury English is the ONE & ONLY! The ORIGINAL! And it's all yours for a steal!
9. Great opportunities like this one only come up a few times in your life. Don't miss it. We will take care of you and ease you into this new, incredible life! Sign Up Now!
BECOME A LANGUAGE TEACHER OF ENGLISH IN SPAIN WITH OUR TEACHING ABROAD PROGRAMS